September is flying by and yet, taking FOREVER. Is that true for you? Because in our house, this was a week that just didn't want to end.
This Week in Vampire Cinema:
Salem's Lot (1979)

Directed by Tobe Hooper, starring David Soul as Ben Meares and Bonnie Bedella as Susan Norton.

Love at First Bite (1979)

Directed by Stan Dragoti, starring George Hamilton as Dracula and Susan Saint James as Cindy Sondheim.

The Hunger (1983)

Directed by Tony Scott, starring David Bowie as John Blaylock, Catherine Deneuve as Miriam Blaylock, and Susan Sarandon as Dr. Sarah Roberts.

Vampire Hunter D (1985)

Directed by Toyoo Ashida, starring John Gremillion as D and Luci Christian as Doris Lang.

The Lost Boys (1987)

Directed Joel Schumacher, starring Keifer Sutherland as David, Jason Patric as Michael Emerson, Jami Gertz as Star, and Corey Haim as Sam Emerson. It's worth noting that Corey Feldman is also in this film as Edgar Frog.
I gotta say, I saw the run-time on this and was not excited. THREE HOURS?! Maaaannnnn. Who's got that much time? Well, I made time and I'm glad I did. This is classic Stephen King, and I really enjoyed it. As far as tropes or mythos, there doesn't really seem to be anything new here, but I appreciated that King brought an ancient evil into a modern day small town. You know, like Stephen King does. This movie was genuinely scary at times, with the costumes and makeup as well as a couple jump scares. I found myself poking fun at the movie while simultaneously getting more and more drawn in to it. It's worth the time, for sure.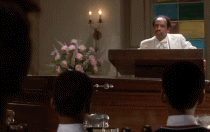 Oh my goodness. This movie was much more fun than I anticipated. I loved how many nods to the 1931 film there were, and how they twisted those old tropes for some primo comedy. George Hamilton was delightful, as was Dr. Rosenberg. But the real star for me was Susan Saint James. I loved Cindy and related to her probably way too much. It was just a nice change of pace from the overly serious films that we're probably going to watch it again.
I actually really liked this one. It could have used more young Bowie (I would watch an entire movie of just Vampire Bowie looking cool af standing places), but that's a given. More Bowie is always appropriate. I really appreciated the style of this film. It gave me The Crow vibes, but with a bit more sophistication. It's a visually very beautiful movie, gory in its own way, and deeply unsettling. Plus, it has Bauhaus singing 'Bela Lugosi's Dead' in the opening sequence. What's not to love? I dug it.
Well, I'm generally fond of 80s Anime. There's something nostalgic about the way the narrative is mostly implied. Like, you get the gist of what's happening but so much seems left to interpretation. I think it's because 80s (and earlier) anime wasn't made with a Western audience in mind, so the film expects the viewer to do some of the work to understand the story. That's my theory, anyway. As far as an addition to Vampire Cinema, there was a lot to like here. We have our first instance of a Half-Vampire (Dhampir) protagonist, we've got a female villain who is clever and actually thinks for herself. I also just really appreciated the sort of Wild West aesthetic D was rocking. It felt very reminiscent of Stephen King's The Gunslinger, and became a bit of an icon and trope for anime and manga in the 90s (lookin' at you Trigun). But, like a lot of anime/manga, the female characters are extremely sexualized and largely useless. Could have done without her whole character, honestly. But, there wouldn't be much of a movie without her need for a Hunter, I suppose.
I freaking love this movie. I grew up on it, like other people grew up on The Goonies. Every part of it is a genuine delight to me. The soundtrack, the cast, the humor, the effects, and how genuinely creepy Keifer Sutherland's David is. Jamie Gertz is beautiful, Jason Patric is beautiful, Keifer Sutherland is beautiful. The oiled up sax man is less beautiful, but I love him anyway. As far as Vamp Lore this movie cements the idea of Half-Vampires, establishes some new lore (vamps sleeping like bats hanging from their feet), and debunks old lore ("Garlic doesn't work, boys"). But mostly, it's super fun, a little scary, and 100% one of my favorite spooky season movies. Is it cheesy? Oh, yeah. But that's part of the charm.
And that's what we watched this week. I'm feeling refreshed, as far as my interest in Vampire film is concerned. There's been a lot of good ones lately. I'm hoping that trend continues as we get further and further from the 70s.
Be back next week with another review collection. Until then, Bloggarts!
BZ