I didn't plan on reading this book this year. I got it for free on Audible months ago, almost as an afterthought. It was a moment of, "I have an extra credit, what the hell do I get?" Browse, browse, browse… "Ooooooh! I keep meaning to read that!"
Well, courtesy of a powerfully nauseating migraine on Monday and Tuesday, I finally listened to it. Yep, all thirteen hours in two days. Mainly because I was confined to my bed thanks to unabating queasiness, but also because I enjoyed it that much.
Goodreads Rating: 4/5 Stars
This story is strongly reminiscent of The Three Musketeers, but less the book and more the Disney adaptation. You know, the one with Oliver Platt as Porthos, but if it had an R rating. Actually, now that I think about it, can I get that remake? Please?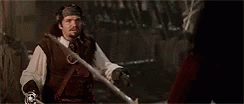 But, really, there are a lot of similarities here. Falcio val Mond, the disgraced First Cantor of the now disbanded Greatcoats, has seen worse days. Though, by any accounts, failing to prevent the murder of the man you're supposed to be guarding is hardly a good day. Especially when he hasn't paid you yet. That's how the former Greatcoats, the dead King's judiciary force, start this adventure: on the run from a murder they didn't commit.
Kest and Brasti follow Falcio because, well, honestly, what else would they do? The whole country hates the Greatcoats, has branded them traitors, so they might as well stick with their best friend and eke out a living. But that all changes as they rush to escape the city and take a job guarding the first caravan that would take them. And like any good story, the Greatcoats flee one sort of trouble only to tumble into trouble of another kind. Namely, foiling the plot of the evil and greedy Duchies to unite the kingdom under a false monarch.
What really impressed me about this book was the relationship between Falcio, Kest, and Brasti. They are brothers, well and truly. They care for one another, they tease each other, and they fight with and for one another. Their dynamic was everything to me as I listened to this book.
It didn't hurt that the plot and world-building were pretty great too.
So, why not five stars? Well, I figured out the big twist really quick. Like, before it was even actually hinted at. But, the narrator (Falcio) kept on not realizing it until the very last chapter of the book. He's supposed to be smart y'all, and he couldn't figure it out, while everyone else around him (myself included) did.
That loses a star at minimum. Thank goodness I liked the characters, setting, and the narrator so much! This is the part where I mention how wonderful Joe Jameson's narration was and how sad I am to have to read physical copies of the rest of the series, since the library doesn't own the audiobooks. He's apparently quite the prolific narrator, so I'll be sure to keep an eye out for other projects of his.
I'm just now tucking into the next book, Knight's Shadow, but hopefully I can make good progress on it. I'm sure it won't take too long, but with the holidays expect an early 2019 review on this one.
I'll be back on Christmas Eve with the usually Goals Summary!
Until then, Bloggos,
BZ